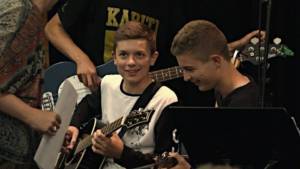 We believe a successful learning experience should be:
Relationship Focussed
We place students and their families first in our practice.
We aim to be flexible, providing catchups for missed lessons and term payment options.
We aim to engage with the whole family in the learning experience.
We provide a waiting area for parents/whanau during the students lessons with coffee and tea.
Parents are always welcome to sit in on the lessons.
Student Led
We appreciate that students interests can change over time and we aim to go with where the students learning interests are.  All our teachers play by ear and can transcribe songs and teach multiple styles/genres of music. However, we will not teach students songs that are currently beyond the students level.
Skill Based
Whatever direction our students are going in, we try to provide solid skill-based learning around the student's song and style choices.
We teach the following core skill sets:
Sight Reading/Tab Reading
Technique
Scales and Soloing
Theory
Song Styles
Playing by ear/Intervals
Trust Built
We aim to do what we say we'll do and be consistent in our teaching practice. To aid in this, we have a shared resource base.
We aim to develop long term teaching relationships and life long learners.
Business Orientated
We aim to have sustainable business practices and look to do things smarter and invest in new technology. Our business is run with integrity and honesty with our goal being to build a strong and trustworthy brand.